Together with our partner Winmate, we have already developed smart digital lockers with various configurations for a wide range of applications, such as businesses, universities, retailers, healthcare facilities, multi-family housing, or financial and government institutions.
Automated locker solutions offer:
Contactless delivery and self-service

High ease of use

A wide range of options

Easy integration

Unlimited application possibilities
The core product: 7"~15.6" HMI panel PC, E series

The next generation of touchscreen solutions with enhanced user experience.

Winmate's E-series is the HMI terminal tailored to promote the implementation of IIoT in industrial and commercial fields, taking process visualization and asset management to the next level.

Product Details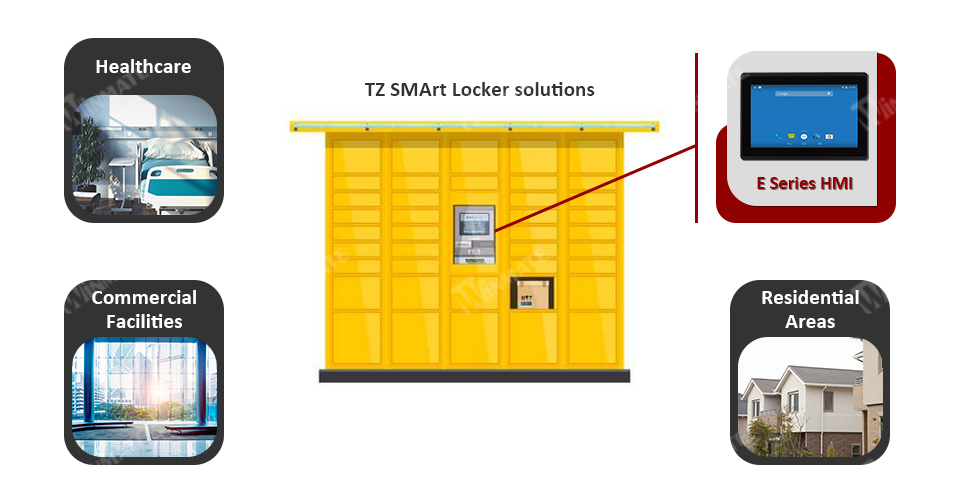 TZ Limited has adopted Winmate's E-Series HMI panel PCs for use in TZ SMArt Locker systems, a state-of-the-art intelligent digital locker that provides secure, convenient and cost-effective logistics solutions for a wide range of industries.TZ SMArt Locker systems are masterfully manufactured and purposefully configured – and award-winning with Winmate's end-to-end electronic hardware and software solution for intelligent lockers.

TZ Limited is a technology company listed on the Australian Securities Exchange. TZ is a leader in SMArt Device™ technology, which combines state-of-the-art SMA-actuated smart fastening and locking devices with TZ remote control software. TZ SMArt Lockers provide intelligent storage, delivery and replacement solutions for the mobile, agile and non-contact workplace. The company currently delivers market-leading solutions to major enterprises worldwide in the data center industry and for automated parcel lockers and e-commerce.



Key challenges

Meeting new business demands: The pandemic has caused demand for contactless delivery solutions to skyrocket. In addition to retail, other industries began using smart lockers, including biotechnology companies, healthcare facilities, corporations and government institutions. For this project, it was a challenge to handle the higher volume.

Outdoor installation: Outdoor weatherproof locker systems are designed and constructed to protect boxes or packages and withstand all weather conditions, including sun, rain, snow and wind. All components of the system must be rugged and durable enough to withstand harsh outdoor conditions.
Multi-Touch HMI Panel PC
Elegant design - Winmate E-Series HMI terminals feature a truly flat surface that is easy to clean. The sleek design of the front panel provides an aesthetically pleasing look that blends in with modern indoor and outdoor environments.

Responsive Touchscreen - E-Series HMI terminals feature a highly responsive projected capacitive touchscreen (PCAP) and support multi-touch operations that can be easily controlled with fingers, making the panel easier to operate. The glass cover lens provides excellent protection against scratches.

Android Operating System - The Android operating system enables faster application development and easier software integration, opening up extensive customization options for system developers.

Peripheral Connectivity - In terms of external connectivity, the standard configuration includes 1 x USB 2.0 host, 1 x USB OTG, 1 x Mirco HDMI, 1 x RS-232/422/485 serial port, 1 x CANBus interface, and 1 x RJ45 10/100/1000 LAN supporting PoE function.

Power-over-Ethernet (PoE) - PoE function support enables simultaneous transmission of data and electrical power, resulting in reduced installation costs and power consumption.

Weatherproof Solution - E-Series HMI Panel PCs are IP65 rated on the front against dust, dirt and water ingress, making them perfect for weatherproof cabinets installed in outdoor environments.