Slim, economical, robust – EL1083-EC
Booksize Embedded-PC for professional use in robust aluminium housing. Designed for industrial applications in continuous operation. Easy installation with mounting rails or on a top-hat rail. The powerful Intel J1900 4-core CPU, the full-fledged 2.5" SSD (256 GB), a comprehensive selection of interfaces and the good cooling concept enable a variety of demanding applications in industrial environments.

EL 1083-EC -> further information
Powerful, modular and communicative – EL1097
The embedded PC can be extended with additional modules to include further interfaces. The hard disk or SSD is accessible without tools and is easy to maintain. In addition to the large variety of interfaces (Fig. back), further modules are available such as USB, CAN bus, LPT parallel port, RJ45 Ethernet or serial COM interfaces.

Extensible high performance – EL1092

High performance, robustness and interface diversity in booksize format. Designed for computing and data-intensive processing on the spot in continuous operation with 2 drive bays, RAID option and Core-i CPU. Extensive range of interfaces for high connectivity and easy integration into all processes. The range of interfaces opens up a wide variety of application possibilities. Here with digital I/O as 16-pin terminal block. On request, a version with an extended housing at the bottom is available, so that the system can be expanded with a PCI Express card.

The EL1092 is available with two different chipsets - as EL1092-H with the Intel H110 chipset and as EL1092-Q with the Intel Q170 chipset.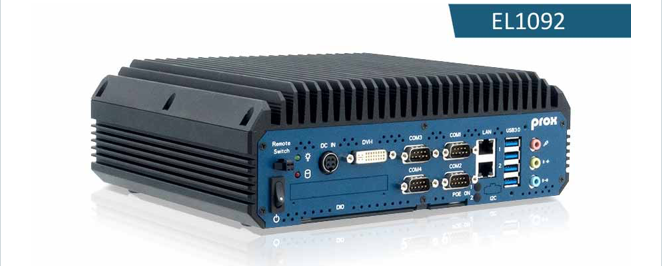 EL1092-H -> further information
EL1092-Q -> further information
All three models in comparison: